There are plenty of ways to raise funds and awareness, but one of the most popular strategies is fundraising events that focus on donor engagement. Auctions are a tried-and-true way to connect with donors and simultaneously raise funds for your cause. Adding engagement strategies in your next auction can bring your event to the next level. We will dive into 5 strategies you can implement in your next fundraising auction to drive deeper donor engagement:
Leverage Ambassador Fundraising.
Procure Great Items.
Price Your Items Fairly.
Ensure It's Easy To Bid On And Receive Items.
Make Your Auction Part of Another Event.
Let's get started!

Leverage Ambassador Fundraising
If your team is looking for cutting-edge innovation and engagement in your next auction, consider leveraging Ambassador Fundraising. Ambassador Fundraising takes social fundraising to the next level, and can be used in conjunction with any type of fundraising event. Nonprofits tap "ambassadors" (a.k.a ardent supporters, champions, highly visible supporters) to fundraise leading up to your event. Tapping your most passionate supporters and empowering them to be active fundraisers helps your cause grow your networks, drive increased revenue, and make fundraising, well fun! With a well thought out Ambassador Fundraising strategy, your nonprofit can:
Create healthy competition: Create a head-to-head competition to drive traction to your auction.
Increase your reach: With a wider social network access, your event's can impact more people than ever.
Build Event Excitement: Leverage your ambassadors to talk and build the energy surrounding your auction.
Implement Ambassador Fundraising in your next auction to unleash friendly competition, deepen connection to your cause, and make your campaign fun! Just be sure to equip Ambassadors with the right tools to fuel fundraising success.

Procure Great Items.
Elevate your next auction by offering high quality items, and higher bids will follow. The better quality and more relevant your items are, the more engagement and bids for your cause. We've learned from supporting thousands of auctions a year, that, greater auction success is seen when great items are tailored to the interest of your supporters. When you curate items to meet supporters' wants, you've created competition, engaged bidding, and higher proceeds! So, how do you know what items to procure? Here's our our top tips for identifying the best and most biddable auction items: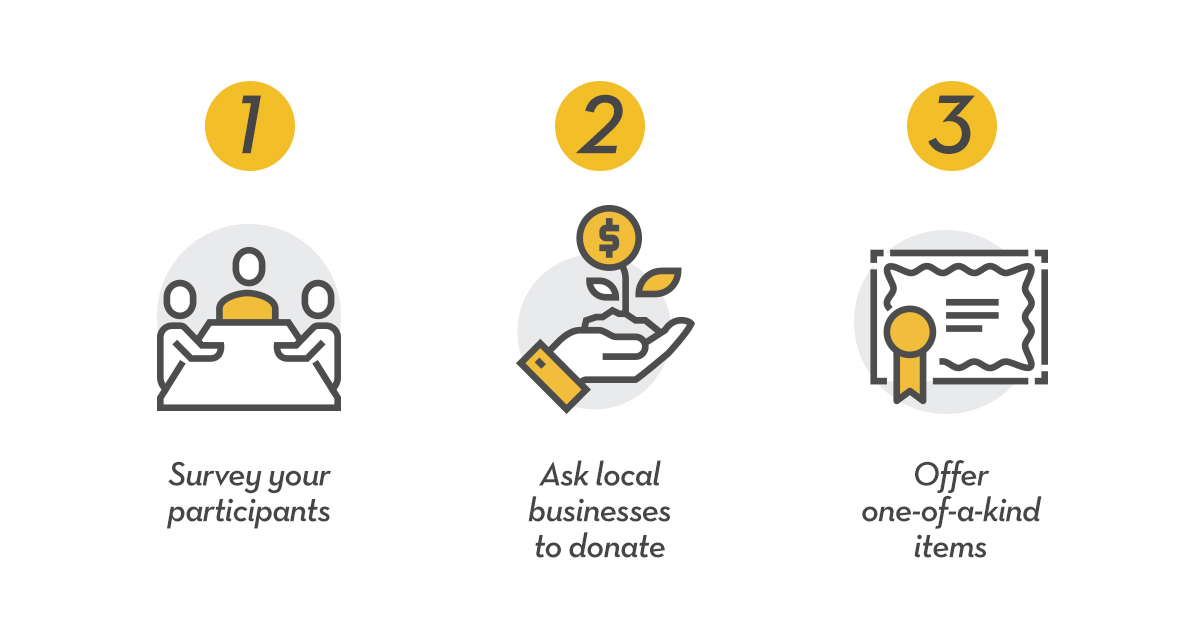 Survey participants: Understand what your donors will bid on by asking them directly. Send them a quick asking them to rank items and provide auction ideass. You'll eliminate the guesswork when you ask your donors what they want!
Ask local businesses: Leverage your local community to provide great items uction items from local businesses provide the opportunity to showcase their local businesses and highlight community value. Giving back to your community is important, so keep that messaging in mind when doing your outreach!
Offer one-of-a-kind items: Provide attendees the opportunity to bid on one-of-a-kind experiences they can't find anywhere else. Special trips or unique events allow participants to see the unique value of the item. In addition, exclusivity increases the bidding potential!
These tips are a surefire way to have the most biddable items at your event. Taking the time to procure valuable items donor engagement and excitement for your next auction!

Price your items fairly.
With items acquired, it is time to price your auction. Believe it or not, the right pricing can be the difference between auction success and auction bust. Ensuring bid prices are fair, lowers the boundaries to participate, and helps nonprofits engage small to midsize donors, not just top tier spenders. We recommend these guidelines to price your auction items:
Investigate the price of tangible items: Tangible items are physical items that have a retail price. Take the time to research the fair market value of these items to help in your pricing decisions.
Consult supporters on pricing of intangible items: Intangible items are a bit tricker to prices. It's important to make sure you estimate a correct value on these items. Using historical auction data to determine what your audience will spend, betters your chance for a successful silent auction.
Set a reasonable minimum bid: The general rule of thumb is to not go above or below 30-50% of the item's market value. Keep these ranges in mind when pricing your items.
Pricing auction items does not have to be daunting! Dive deeper into the latest pricing strategies with our in-depth auction pricing guide.

Ensure it's easy to bid on and receive items.
A straightforward bidding experience is an easy way for nonprofits to increase engagement and drive auction revenue. Dedicate to the logistical flow of your auction. Make sure the experience makes it easy for bidders and donors before, during, and after your auction. Remember, a seamless giving and bidding experience ill increases attendee satisfaction and keep them coming back for more! To create an easy and engaging bidding experience try these three tips:
Create a team to handle logistics: Creating a team to handle auction logistics covers crucial tasks and ensures nothing falls through the cracks.
Automate Messaging: Leverage automated messaging to notify attendees when they're out bid on auction items. These messages keep attendees focused on your fundraising with wanting to win!
Implement mobile bidding software: Make it easier and faster to bid! Mobile bidding software increases engagement and improves your guests' experience.
Planning out the logistics for your auction helps ensure an easy bidding experience for your guests in any type of auction!

Make your auction part of another event.
Having your auction as a part of another event allows attendees to have a unique and positive experience with your nonprofit and lead them to bid more! Typical events to include in tandem with your auction include:
Gala
Talent Show
Drive-In
Dinner Party
Casino Night
Sports Tournament
Integrating an auction with another event is common. These combinations provide more experiences for you attendees, and allows them to stay at your event longer, leading to more bidding! These event combinations work well for any time of the year! Leverage multiple events within your next auction planning is a surefire way to positively impact donor experience.
---
Set your next auction apart from the rest through with a donor focused engagement strategy. Keeping your engagement up through these 5 engagement strategies is a solid way to see success in your next auction. This priority on engagement makes the difference between having a donor attend your next event or not. Through focusing on the donor and providing unique experiences, your next auction is sure to create meaningful connections and raise more for your cause.
---
This article was contributed by Karrie Wozniak at OneCause.